>> nederlandse versie hieronder beschikbaar <<<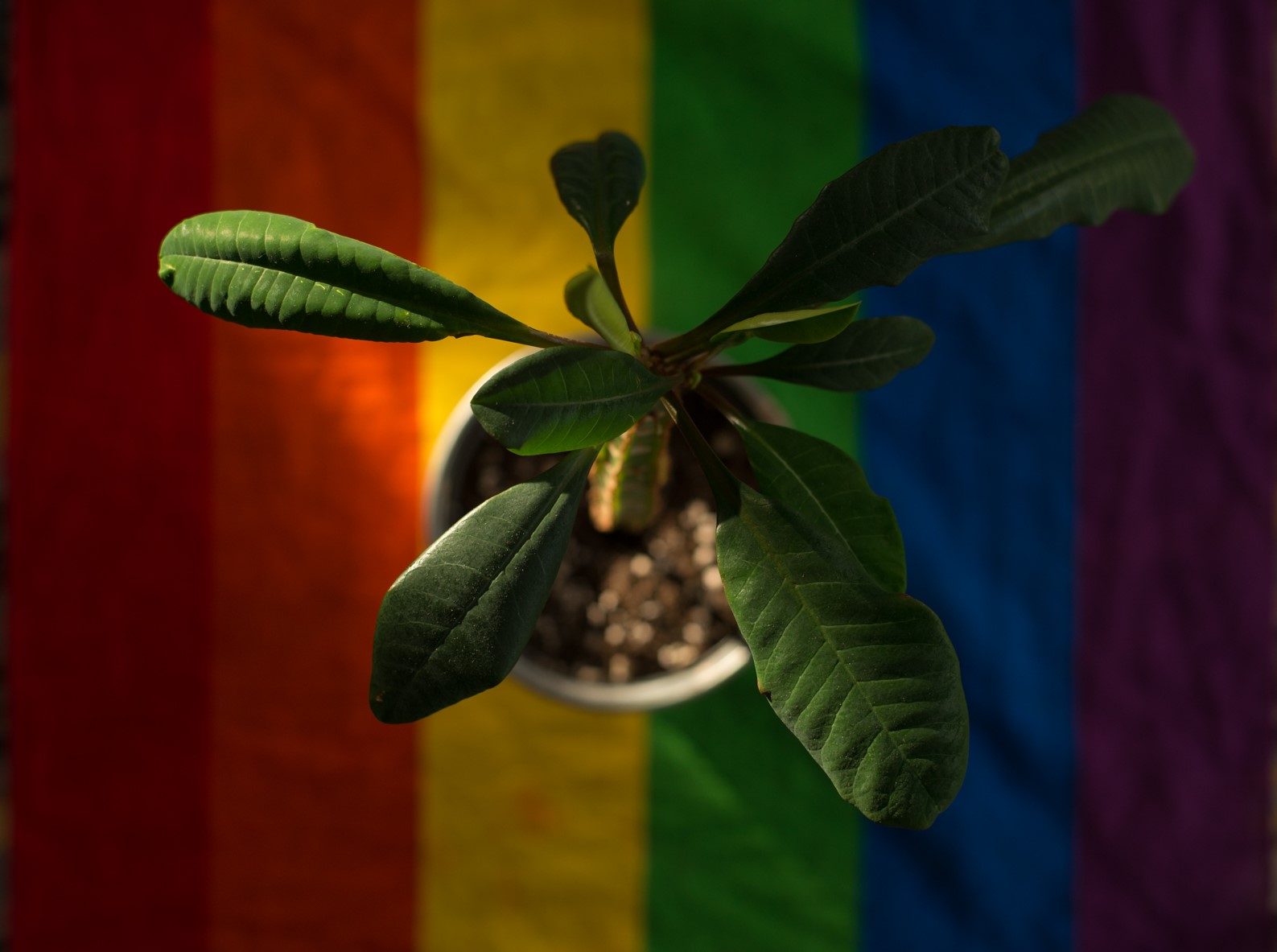 The current occupation of the empty office building on Waldeck Pyrmontkade 872 (WP872) is an opportunity to theorize queer and feminist issues surrounding housing rights, namely the intersection of various forms of discriminations – especially based on gender and sexual orientation – in the access to safe and secure housing. Private living spaces are political and they are a site of feminist struggle. The evolution of WP872 – from its past uses to the uses the new owners are destining it to, via the rerouting that the occupation is operating – is exemplary of the ways in which patriarchal power dynamics infiltrate the housing market and work to dispossess those who are in most dire need of it from safe housing. WP872 stands as a symbol; it allows us to define some core feminist/queer[1] issues in housing rights, and to appreciate the feminist stakes in occupations.
Let us first situate the occupation at WP872. The building used to house various organisations working against domestic violence. They offered services such as after-school day care, counselling sessions, crisis management, placements of children in foster families and so forth. These organisations have been forced to move out in 2018 due to their impossibility to pay rent. The building was subsequently bought by an Amsterdam based real-estate company. They envision to build luxury short-stay apartments at WP872, in which expats may stay no longer than 6 months for a monthly rent of over 4.000€. In protest against this socially irresponsible project, the Short Stay No Way group has taken hold of this building and demands its conversion to social housing. This occupation is resolutely queer and feminist, and a reading of the situation (both specifically at WP872, and in the housing market in general) through a feminist-queer lens is long overdue. Hence the publication of this article now.
Housing – a site of queer/feminist struggle
In a place like The Hague, where the housing crisis has been increasingly pervading the city, many people get stuck in at best uncomfortable and at worse life endangering housing situations. Sky rocketing rent prices, unavailability of space, absence of long term security and wearying waiting lists for social housing all cumulate to foster a hostile housing market, in which only those with deep pockets can afford to live decently. As is often the case, it is those who are exploited with regards to household chores, who are targeted by (patriarchal) violence and who earn least, namely womxn[2] and queers, who are most impacted by the housing crisis.
Lack of economic resources and financial insecurity largely account for why womxn and queers are particularly touched by the housing crisis. Indeed the gap in median salary for full time working women in the Netherlands is 14%[3]. This discrepancy in salary is only one visible and tangible expression of structural discriminations which impact those assigned female from birth onwards and affect them until their deaths. These forms of discrimination intersect thoroughly with those affecting queer people who also face workplace discrimination, the impossibility to find work due to mismatch between state imposed identity and gender expression, or simply cannot get access to a home because their family model does not fit within the narrow box of the nuclear family. Similarly, gendered expectations, experiences of harassment and discrimination in education or the workplace lead to womxn being restricted to certain occupations only, shortens their education and stagnates their professional development. Womxn and people assigned female at birth are often circumscribed to working in care and education. As the OECD pointed out, women make up 70% of the medical and support workforce, 85% of the nurses and take responsibility for 90% long term care over the world. They also make up over 90% of the cashiers in supermarkets and 60% of the cleaning industry workers in private and public sectors[4]. These jobs as teachers, nurses, cleaners and so forth lack valorisation – economically and societally. Lifelong economic insecurity cater for appalling levels of poverty, for example amongst older womxn who are often therefore economically dependent on their partners or children and placed in retirement homes where physical and mental abuse are all too common practices. Due to economic insecurity, financial dependency and the resulting impossibility to live independently, many (working) womxn have no other choice but to stay in unsafe living situations. They simply cannot afford to live autonomously, in safer spaces. Their precarious living situations intersect with many other factors which put certain populations more at risk. The class society which keeps people in poverty so as to exploit them more thoroughly. The racist society, which exploits people of colour as cheap work force and refuses access to basic human needs to certain people only based on their papers. Or the ableist society which discards bodies not seen as productive in a capitalist economy. And all the while, the rent prices are relentlessly rising…
The housing rights struggle is furthermore intrinsically entangled with queer/feminist issues because housework remains invisibilised, unpaid and unvalued. As a result, womxn and queers are exploited both outside of their homes and within the spaces they inhabit. Under housework we understand the chores that keep the household going (cooking, cleaning, washing, doing groceries etc.), the care labour (the taking care of others, their emotional and physical wellbeing), and reproductive labour (unpaid sexual labour, the producing of children, their looking after and bringing up), to name only a few. Housework is carried out mostly by people assigned female at birth, and often by people assigned male at birth who deviate from their assigned masculinity in sexual orientation or gendered expression. The gendered division of housework caters to the double workday of womxn, who upon coming home after a day of paid labour find their time and mental space filled with the obligation to keep the household going. This work generates physical and mental exhaustion. Self-determination with regards to whom you live with and especially how you live – how the tasks within the home are divided – is therefore particularly crucial for people assigned female at birth and transfeminine people, yet it is also unfortunately inaccessible to them because they are systematically facing economic insecurity and that rent prices are distressingly high.
As a result of this economic insecurity many queers and womxn are forced to remain in unsafe homes in which forms of violence specific to their position as an oppressed group in society takes place. While patriarchal violence characterizes all areas of society, it is within the home that this violence is often most invisible and yet most pervasive. Due to the fact that public spaces are unsafe, womxn and queer people's vital space shrinks to the size of their home. Patriarchal violence is however not stopped at the doorstep of people's homes, instead it infiltrates this last space over which womxn and queers could hope to have a claim to safety. This forms of violence is principally perpetrated by people they are close to – namely partners, family members, family friends and acquaintances. Domestic violence and especially femicides[5] are another vital reason why access to independent housing for those assigned female at birth and those who diverge from the straight world is of uttermost importance.
WP872 or the urgency of acting now
The past use of WP872, namely its use as office building for organisations fighting domestic violence, bears testimony to the issues we have outlined above. These offices, which were dedicated to caring for youths at risk and worked towards providing safer homes for those who need it, saw the dramatic consequences of the housing crisis on womxn and queer people, and the urgency of acting upon it. Meanwhile, real estate companies which have the financial capacity to drastically impact the situation, instead of contributing to the resolution of these issues are only making them worse. The company which bought this building is exemplary of these dynamics: instead of building houses for those who need it, they are solely building hotels for profit. They are hereby actively dispossessing womxn and queer of 3000 m2. Let the weight of their deaths, wounds and collapses from exhaustion weigh on their shoulders. They could have chosen to build social housing, but chose to further entrench the housing crisis. While we do hold them responsible, we will also not wait for them to fix this situation. The solution will not come from capitalism, it does not lie in their wealth and private ownership. It comes in the reappropriation of spaces that we have been dispossessed of. We, the womxn, the queers, shall not wait for anyone to do anything for us.
We are occupying this building to reroute it; interrupting its written course to make alternative futures possible. Instead of luxury short-stay apartments at WP872, we require social housing: housing that is affordable, and that is organised in a social way.
We require to have self-determination over the organisation of our living spaces. We require the responsibility of household chores to be shared instead of relying solely on the shoulders of womxn or outsourcing it to working class womxn. We require intergenerational support and day-care. We require homes in which gender and sexual diversity is celebrated instead of merely tolerated. We require homes for people, regardless of what the state has decreed their right to be here and their identity to be. We require spaces to organise resistance against the patriarchal order and the violence that characterizes it, whether it comes from within the home, the workplace or the state. We will take care of fulfilling our needs, and squat the world – starting with WP872.
NOTES:
[1] Queer is an umbrella term that regroups LGBTI+ identities under a denomination that reclaims a former insult. By using this term, the intention is not to invisibilise the LGBTI+ people who do not identify as queer. We will be using the term 'queer' to highlight the political identities that diverge from the cis-heterosexual norm and are thereby targeted by forms of discrimination and violence from the 'straight' world.
[2] The use of the term 'womxn' stems for an attempt to avoid limiting the analysis to people assigned female at birth and identifying as such. It strives to include people who deviate from the gender norms attached to womanhood, yet still identify as female, and to include transfeminine people, however they may identify (as non-binary, agender or else).
[3] OECD (2017), The Pursuit of Gender Equality, an Uphill Battle, OECD Publishing, Paris. https://dx.doi.org/10.1787/9789264281318-en
Side note on the use of men/women terms: the statistics quoted here do not specify which definition they applied to categorize people as men and women. Salary inequality is not a phenomenon that solely concern women, but a discrimination which impacts – albeit to different degrees and in different ways – all those who live on the margins of the straight-white-cis-male world. Here the term 'women' was kept instead of womxn, to underline the narrow notion of femininity put forward in these statistics.
[4] OECD (2017), The Pursuit of Gender Equality, an Uphill Battle, OECD Publishing, Paris. https://dx.doi.org/10.1787/9789264281318-en
[5] Femicide: the gender-based murder of a womxn or girl by a man.
---
WP872 – Resoluut feministisch en Queer
De huidige bezetting van het leegstaande kantoorpand aan de Waldeck Pyrmontkade 872 (WP872) biedt de kans om queer en feministische vraagstukken te onderzoeken; namelijk de intersectie van verschillende vormen van discriminatie – vooral op basis van gender en seksuele geaardheid – in de toegang tot veilig en vaste woonvormen. De evolutie van WP872 – van zijn verleden tot zijn mogelijke toekomst, via de omleiding die de bezetting veroorzaakt – is representatief voor hoe het patriarchaat de woningmarkt infiltreert en werkt om degenen die het meest kwetsbaar zijn te onteigenenen van veilig huizen onteigenen. WP872 staat als symbool; het geeft ons de kans om kern feministische/queer[1] kwesties in het recht tot huisvesting vast te stellen, en om de feministische belangen van bezettingen te onderstrepen.
Laten wij beginnen met het situeren van de occupatie van WP872. Het gebouw huisvestte ooit meerdere organisaties die zich inzetten tegen huiselijk geweld. Deze boden diensten aan zoals naschoolse opvang, begeleiding, crisis management, het plaatsen van kinderen in pleeggezinnen enzovoort. De organisaties moesten verhuizen in 2018 vanwege de te hoge huur. Het gebouw is vervolgens gekocht door een Amsterdamse beleggingsfonds. Deze is van plan om WP872 om te bouwen tot luxe short-stay appartementen waarin expats niet langer dan 6 maanden kunnen verblijven, voor een maandelijkse huur van boven de 4.000€. In verzet tegen dit maatschappelijk onverantwoorde project heeft de Short Stay No Way groep het gebouw in bezit genomen. Wij eisen de conversie van dat dit gebouw wordt omgebouwd tot sociale huurwoningen. De bezetting is resoluut queer en feministisch, en het is hoogste tijd voor een queer-feministische analyse van de situatie (van WP872, en de woningmarkt over het algemeen). Vandaar de publicatie van dit artikel nu.
Huisvesting – een broedplaats van queer/feministische kwesties
In een plek zoals Den Haag, waar de woningcrisis in toenemende mate de stad onbewoonbaar maakt, komen veel mensen vast te zitten in een op zijn best ongemakkelijke en in het ergste geval een levensgevaarlijke woningsituatie. De cumulatie van torenhoge huurprijzen, het ontbreken van levensruimtes, de onbereikbaarheid van lange termijn zekerheid en oneindige wachtlijsten voor sociale huurwoningen kweekt een vijandige woningmarkt. Zoals vaak het geval is, zijn het degene die geëxploiteerd zijn op het gebied van huishoudelijke taken, die het mikpunt zijn van (patriarchale) geweld en die het minst verdienen – namelijk vrouwxn[2] en queers – die het meest getroffen zijn door de woningcrisis.
Gebrek aan financiële middelen en economische onzekerheid verklaren voor een groot deel waarom vrouwxn en queers in het bijzonder getroffen zijn door de huisvestingscrisis. En inderdaad is het verschil in mediaan inkomen tussen voltijd werkende vrouwen en mannen nog steeds 14% in Nederland[3]. De kloof in inkomen is maar één zichtbare en aanspreekbare uiting van structurele discriminaties die impact hebben op het leven van mensen die op hun geboorte als vrouwen toegewezen zijn van hun geboorte tot hun dood. Deze vormen van discriminaties intersecten door en door met degene die queer mensen meemaken, bijvoorbeeld discriminatie op de werkplaats, de onmogelijkheid om werk te vinden omdat de door de staat vastgestelde identiteit niet overeenkomt met het getoonde gender, of simpelweg geen toegang krijgen tot een huis omdat het gezinsmodel niet past binnen de krappe doos van de nucleaire gezin. Insgelijks hebben verwachtingen op basis van gender, ervaringen van intimidatie of mishandeling en discriminatie in educatie of op de werkplaats als uitkomst dat vrouwxn begrensd tot bepaalde beroepen, dat hun educatie verkort is en hun professionele ontwikkeling stagneert. Vrouwxn en mensen die op hun geboorte als vrouw zijn toegewezen zijn vaak begrensd tot het werken in de care sector en in educatie. Zoals de OECD het opmerkt, maken vrouwen 70% van de geneeskundige en ondersteuningsberoepen uit, 85% van de verpleegsters en verzorgen en 90% van de lange termijn zorg over de wereld. Zij maken ook 90% van de cassieres en 60% van de schoonmaakindustrie in privé en publieke sectors uit[4]. Deze banen als leerkracht, verpleegster, schoonmaakster enzovoorts zijn niet gevaloriseerd (economisch en maatschappelijk). Levenslange financiële onzekerheid leiden tot ontstellend niveaus van armoede, bijvoorbeeld voor oudere vrouwxn die vaak economisch afhankelijk zijn op hun partner of kinderen en worden geplaatst in verpleeghuizen waar fysieke en mentale misbruik al te voorkomend zijn. Vanwege economische onzekerheid, financiële afhankelijkheid en de daar bijhorende onmogelijkheid om zelfstandig te wonen, hebben veel (werkende) vrouwxn geen andere keuze dan in onveilige levenssituaties te verblijven. Zij kunnen simpelweg niet betalen om zelfstandig te wonen. Hun precaire levenssituaties kruizen met veel andere factoren welke bepaalde populaties nog kwetsbaarder maken. De klasse maatschappij, welke mensen in armoede houdt om ze beter te kunnen exploiteren. De racistische maatschappij, welke mensen van kleur exploiteert als goedkope arbeidskracht, en toegang weigert tot fundamentele menselijke behoeftes voor mensen op basis van hun bezit of niet van bepaalde documenten. Of de ableist maatschappij welke lichamen die niet gezien zijn als productief onder kapitalisme als waardeloos beschouwt. En dat terwijl de huurprijzen meedogenloos stijgen…
De strijd rondom huisvesting is verder onlosmakelijk verbonden met queer/feministische vraagstukken, vanwege het feit dat huishoudelijk werk nog steeds ongewaardeerd, onbetaald en onzichtbaar blijft. Hierdoor worden vrouwxn en queers geëxploiteerd buiten hun huizen, en binnen de plekken die zij bewonen. Onder huishoudelijk werk verstaan wij de taken die het huishouden gaande houden (koken, schoonmaken, wassen, boodschappen doen etc.), het 'care' werk (voor anderen zorgen, hun fysieke en mentale welzijn verzorgen) en het reproductief werk (het produceren, verzorgen en opvoeden van kinderen), om maar een paar taken op te noemen. Huishoudelijk werk wordt voornamelijk door mensen die bij hun geboorte als vrouw zijn aangewezen, en vaak ook door mensen die op hun geboorte als man zijn aangewezen maar afwijken van hun toegewezen masculiniteit in hun seksuele geaardheid en gender expressie. De divisie van huishoudelijk werk volgens gender heeft als uitkomst een dubbele werkdag voor vrouwxn; zij die na een lange dag betaald werk hun tijd en mentale ruimte zien overgenomen door de verplichting om het huishouden te onderhouden. Bovendien is het huis ook de plek waar de exploitatie van onbetaald seksueel werk, care werk en reproductief werk het meest voorkomend en meest sociaal geaccepteerd is. Dit werk genereert fysieke en mentale uitputting. Zelfbestuur over met wie je leeft en vooral hoe je leeft – hoe de taken binnen het huis verdeeld zijn – is daarom in het bijzonder cruciaal voor mensen die op hun geboorte als vrouw toegewezen zijn, of transfeminine mensen. Het is helaas ook vaak onbereikbaar voor hun omdat zij systematische economische onzekerheid meemaken.
Als bijgevolg van economische onzekerheid zijn veel queers en vrouwxn geforceerd te blijven in onveilige huizen waarin vormen van geweld plaatsvinden die specifiek gericht zijn op hun als vrouwxn/queer mensen. Hoewel patriarchaal geweld zowel alle gebieden van de samenleving kenmerkt, is het binnen het huis dat dit geweld vaak het meest onzichtbaar is maar ook het meest voorkomt. Vanwege het feit dat publieke ruimtes niet veilig zijn, zien vrouwxn en queers hun vitale levensruimte verkrimpen tot de grootte van hun thuis. Patriarchaal geweld houdt echter niet bij de voordeur op, in plaats daarvan infiltreert het de laatste plek waar vrouwxn en queers zouden kunnen hopen veiligheid te hebben. Deze vorm van geweld is voornamelijk uitgevoerd door bekenden – partners, gezinsleden, familie vrienden. Huiselijk geweld, en vooral femicides zijn nog een dringende reden waarom toegang tot veilig en zelfstandig huisvesting van uiterst belang is voor degene die als vrouw toegewezen zijn bij hun geboorte en/of niet binnen de 'straight world' leven.
WP872 of de urgentie van nú in actie komen
De vorige bestemming van WP872, namelijk het huisvesten van organisatie tegen huishoudelijk geweld, zijn getuigen van de problemen die wij hierboven hebben beschreven. Deze organisaties, die zich richtten op het zorgen voor kwetsbare jongeren en werkten aan het veilig maken van huishoudens of mensen naar een veiliger huishouden verplaatsten, zagen de dramatische consequenties van de huisvestingscrisis voor vrouwxn en queer mensen – en de daar bijhorende urgentie om nú in actie te komen.
Vastgoedontwikkelaars welke de financiële capaciteit hebben om een drastisch impact te hebben op de situatie, in plaats van bij te dragen aan het oplossen van deze situatie, maken de situatie alleen maar erger. Het bedrijf dat WP872 gekocht heeft geeft een exemplarisch voorbeeld van deze praktijken: in plaats van huizen bouwen voor mensen, bouwen zij hotels voor winst. Zij dragen hierbij actief bij aan het onteigenen van vrouwxn en queers van 3000 m2. Laat het gewicht van hun dood, pijn en instorten op hun schouders wegen. Zij hadden ervoor kunnen kiezen om sociale huurwoningen te bouwen, maar hebben ervoor gekozen om de huisvestingscrisis te verankeren. Hoewel wij hun verantwoordelijk houden voor hun acties, wachten wij niet op hun om de situatie te verbeteren. De oplossing zal niet komen van kapitalisme, het ligt niet in hun rijkdom en particulier eigendom. Het komt van het toe-eigenen van de ruimtes waarvan wij onteigend zijn. Wij, de vrouwxn, de queers, zullen niet wachten op iemand die voor ons iets doet.
Wij heroveren dit gebouw om het om te leiden, om zijn huidige vaartrichting te onderbreken en alternatieve toekomsten mogelijk te maken. In plaats van luxe short-stay appartementen op WP872 eisen wij sociale huurwoningen: woningen die betaalbaar zijn, en op een sociale manier georganiseerd zijn.
Wij eisen om zelfbestuur te hebben over de organisatie van ons levensruimtes. Wij eisen dat de verantwoordelijkheid voor huishoudwerk wordt gedeeld in plaats van alleen op de schouders van vrouwxn te wegen, of uitbesteed naar precaire werkende vrouwxn. Wij eisen intergenerationeel support en kinderopvang. Wij eisen huizen waarin gender en seksuele diversiteit is bezongen in plaats van slechts getolereerd. Wij eisen huizen voor mensen, ongeacht van wat de staat heeft besloten over hun identiteit en hun recht om hier te zijn. Wij eiesn plekken om ons verzet tegen de patriarchale orde en zijn kenmerkende geweld voort te zetten, of die vanuit thuis, de werkplaats of de staat komt. Wij zullen zelf voor het vervullen van ons behoefden zorgen en zullen de hele wereld kraken – beginnend bij WP872.
NOTES:
[1] Queer is een overkoepelende term die LHBTI+ identiteiten verzameld. Door het gebruik van queer is de intentie niet om LHBTI+ mensen die zich niet als queer identificeren onzichtbaar te maken. Wij gebruiken deze term om de politieke identiteiten die uitwijken van de cis-heteroseksuele normen, en de daar bijhorende vormen van geweld van de 'straight world' te onderstrepen.
[2] Het gebruik van de term 'vrouwxn' komt van een poging om de analyse niet te beperken aan mensen die op hun geboorte als vrouw zijn toegewezen en zich ook als vrouw identificeren. Het streeft erna om mensen te omvatten die uitwijken van de gender normen die aan vrouwelijkheid vastgezet zijn, maar zich als nog als vrouwelijk persoon identificeren, en ook transfeminine mensen te omvatten – hoe zij zich maar ook identificeren (als non-binair, agender of ander).
[3] OECD (2017), The Pursuit of Gender Equality, an Uphill Battle, OECD Publishing, Paris. https://dx.doi.org/10.1787/9789264281318-en
Opmerking over het gebruik van man/vrouw termen: de statistieken die wij hier gebruiken geven niet aan welke definitie van vrouwelijkheid zij zich zien. Inkomensongelijkheid is niet een fenomeen dat alleen vrouwen aangaat, maar een discriminatie die impact heeft – weliswaar op verschillende manieren en mate – allen die op de kantlijnen van de witte-straight-cis-man wereld leven. Hier is ervoor gekozen om 'vrouwen' te schrijven in plaats van 'vrouwxn', om de nauwheid van de definitie van vrouwelijkheid in deze onderzoek te onderstrepen.
[4] OECD (2017), The Pursuit of Gender Equality, an Uphill Battle, OECD Publishing, Paris. https://dx.doi.org/10.1787/9789264281318-en